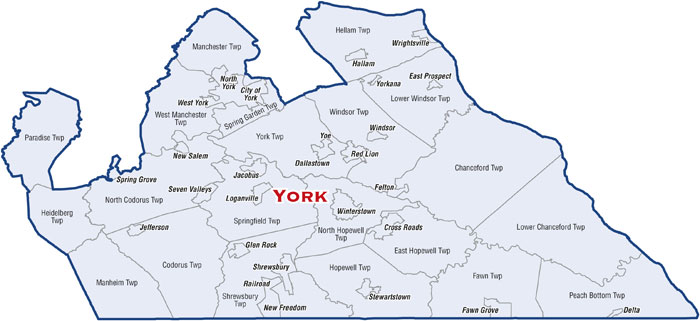 The 28th Senatorial District includes part of YORK County consisting of the CITY of York and the TOWNSHIPS of Chanceford, Codorus, East Hopewell, Fawn, Heidelberg, Hellam, Hopewell, Lower Chanceford, Lower Windsor, Manchester, Manheim, North Codorus, North Hopewell, Paradise, Peach Bottom, Shrewsbury, Spring Garden, Springfield, West Manchester, Windsor and York and the BOROUGHS of Cross Roads, Dallastown, Delta, East Prospect, Fawn Grove, Felton, Glen Rock, Hallam, Jacobus, Jefferson, Loganville, New Freedom, New Salem, North York, Railroad, Red Lion, Seven Valleys, Shrewsbury, Spring Grove, Stewartstown, West York, Windsor, Winterstown, Wrightsville, Yoe, and Yorkana.
If you live in York County but outside of the 28th District, contact your respective Senator:
District 31 – Senator Mike Regan (717) 975-1985
District 33 – Senator Richard Alloway (717) 264-6100
District 48 – Senator Mike Folmer (717) 274-6735
---
Don't know who your Senator or Representative is? Use the Find Your Legislator tool.
York County Members of the House of Representatives
Rep. Keith Gillespie
District 47
4188 Lincoln Highway
York, PA 17406
(717) 840-4711

Townships: Conewago, East Manchester, Hellam,
Manchester, Springettsbury (part)

Boroughs: Hallam, Manchester, Mount Wolf,
Wrightsville

Rep. Dawn Keefer
District 92
1 E. Harrisburg St.
Dillsburg, PA 17019
(717) 432-0792

Townships: Carroll, Fairview, Franklin, Monaghan,
Newberry, Warrington, Washington

Boroughs: Dillsburg, Franklintown, Goldsboro, Lewisberry, Wellsville, York Haven

Rep. Kristin Phillips-Hill
District 93
6872 Susquehanna Trail South
P.O. Box 277
Jacobus, PA 17407
(717) 428-9889

Townships: East Hopewell, Fawn, Hopewell, North Hopewell, Springfield, York

Boroughs: Cross Roads, Dallastown, Fawn Grove, Jacobus, Loganville, Seven Valleys, Shrewsbury, Stewartstown, Winterstown, Yoe

Rep. Stan Saylor
District 94
15 South Main Street
2nd Floor
Red Lion, PA 17356
(717) 244-9232

Townships: Chanceford, Lower Chanceford, Lower Windsor, Springettsbury (part), Windsor

Boroughs: Delta, East Prospect, Felton, Red Lion, Windsor, Yorkana

Carol Hill-Evans
District 95
York City Government Services Building
101 South George Street
York, PA 17401
(717) 848-9595

City: York

Townships: Spring Garden, West Manchester (part)

Boroughs: North York, West York

Rep. Kate Klunk
District 169
118 Carlisle Street, Suite 300
Hanover, PA 17331
Phone: (717) 630-8942

Townships: Codorus, Heidelberg, Manheim, Penn, Shrewsbury, West Manheim

Boroughs: Glen Rock, Hanover, Jefferson, New Freedom, Railroad

Rep. Seth Grove
District 196
1954 Carlisle Road
1st Floor
York, PA 17408
(717) 767-3947

Townships: Dover, Jackson, North Codorus, Paradise, West Manchester

Boroughs: Dover, New Salem, Spring Grove